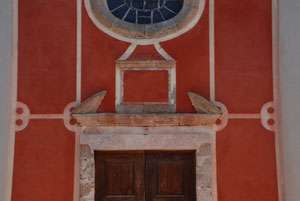 The island of Sant'Antioco is Italy's fourth island after Sicily, Sardinia and Elba and it is joined to the Sardinian mainland by a 3 km isthmus, a causeway that was first built by the Romans over the shallow straits between the sea and the lagoon of Santa Caterina. The ancient town of Sulki or Sulcis was founded around the 8th century BC by the Phoenicians and later became an important and flourishing Carthaginian trading centre. The Romans renamed the town Plumbea (Leadville).
Our tour will start with the visit of the Archaeological Museum, which shows a sample of the finds from the city's hilltop excavations. We can admire many inscribed stelae from the Punic Tophet, ceramic and jewellery from the local necropolis. We will then proceed on foot to the Archaeological area of the Carthaginian Tophet, the infant burial site dedicated to the Goddess Tanit. This rocky site is centred on the ruined walls of a sanctuary surrounded by a scattering of funerary urns. The original urns were long held to contain the ashes of sacrificed first-born children, but now it seems that the ashes were the cremated remains of children still-born or dead for natural causes.
The walking tour continues to the old town up on a height to the Basilica of Sant'Antioco, a saint from Africa who took refuge in Sulcis in the 2nd century A.D and gave the town his present name. The 5th century basilica was restored in the 11th century by monks of St Victor in Marseille, but it has retained its basic structure of the cupola on its square base. This is also the only church in Sardinia with catacombs that the Christians dug from the Punic hypogea between the 2nd and the 7th century. After the visit of this church we will meet a local lady, an artist who is the only one still able in the whole world to weave byssus, a long fine silky filament excreted by a mollusc called Pinna nobilis. The byssus also known as Sea silk was used by many different people in ancient times for manufacturing clothes and tapestry.
Duration 3 hours.
This excursion is not suitable for people with walking difficulties and wheelchairs. Walk uphills. It is advisable to wear comfortable shoes.