Nora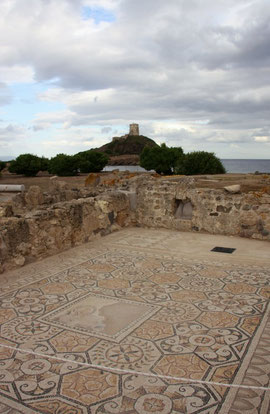 The ruins of Nora.
(tour duration 5- max 6 hours including a sightseeing of Cagliari city and Pula).
The tour begins with an orientation drive towards the east side of the City. Drive along the busy modern waterfront of Cagliari Via Roma with beautiful 19th century palaces and proceed to the Basilica of Our lady of Bonaria, which still preserves a wooden image of the Virgin washed ashore after a shipwreck in 1370.
A photo stop will be made on the top of Mount Urpinu to enjoy views of the old city dominated by the Cathedral, the Protected Area of Molentargius lagoon where flamingos and other wader birds nest, and a view of the Poetto beach. We will then leave the city and we can enjoy a scenic drive along the SS 195 flanked by the large Santa Gilla's lagoon, a very important wetland inscribed in the Ramsar Convention list. This splendid coastal lagoon holds a large breeding colony of Pink flamingos and other waterfowls. We finally drive through the modern pretty town of Pula to reach the Bay of Nora.
Here we start a relaxing walk along the bay to enter the excavations of the ancient spectacular city of Nora. Evidence suggests that Nora was first a Nuraghic settlement but it was officially founded by the Phoenicians around the VIII century BC. It became a flourishing Punic town in the VI century. In 238 BC the site was occupied by the Romans. We will take a stroll to admire the ancient temple of Tanit, the forum, the Roman theatre, the Villas, the Thermal baths and other remains of houses and workshops. The highlights of Nora are the mosaic floors, the temples and the thermal baths. Nearby the excavations we find the Church of Saint Efisio, an early foundation rebuilt in the 11th century. It commemorates Saint Efisio, a convert of Near Eastern origin, who was martyred here. Every year the church becomes the centre of devotion of this Christian martyrs. The saint is celebrated with a solemn procession that starts in Cagliari on the 1st of May. Hundreds of pilgrims from all over Sardinia dressed with traditional costumes, walk on a long parade (approximately 15 miles on foot) together with beautifully adorned floats driven by huge oxen, to escort the statue of the Saint from Cagliari to Nora. This festival has been taking place in Cagliari and Nora since 1656 as a thanksgiving to commemorate Saint Efisio who saved the Sardinian population from plagues, wars and so on.
At the end of the excavation tour we can enjoy tasting some local food in Nora or Pula (on request).